All copywriters know that it is essential to understand how to write content on the web for Search Engine Optimization (SEO). However, what is equally essential is measuring the SEO effect of the content that you have published.  This article explains how Google Analytics is utilized in order to produce reports with the purpose of assessing the performance of articles or evaluating the writers creating those articles.
Here are some basic definitions that we must begin with:
SEO Content
What is search-engine optimized (SEO) content? It is when you research and write website copy in a very deliberate way, with the goal of maximizing your website's impact on the Search Engine Results Pages (SERPs). Doing this entails having a keyword strategy, conducting competitive analyses, and having an extensive knowledge of current ranking factors.
Most clients usually ask copywriters to "create content for SEO." Doing this usually means that the copywriter would need to have a greater role in both strategizing and researching.  In SEO, words matter. Spending a considerable amount of time in getting it right will result in creating content effectively. During the process of researching content, it is a good idea to add SEO research and analysis because they often work well together.
This leads to the question of how you should measure the effectiveness of your content team. Here are a few useful concepts that would be helpful for content writers:
What should you measure?
It doesn't matter whether you're doing SEO or PPC – for any good digital marketing strategy, it is important to have well-defined goals. For every client, there will be different goals, and part of any digital marketer's job is to help the client understand how to articulate their business objectives into measurable actions by site visitors.
Goals should have these few important features:
The values should all be measurable, and that includes revenue, generated leads, and event registrations.
The goals should be easily identified on the site. They should all be seen in the PDF downloads, button clicks, and confirmation page views.
It should lead to business growth.
There is no room for broad goals that are not specific enough for clients to invest in after only about 3-6 months of engagement.
Google Analytics (GA) is an excellent tool that you can use to measure goals. One good thing about GA is that almost everyone has an account, even if a lot of people do not have an idea how to use it. GA can also be integrated with almost all major SEO software platforms.
After researching your content strategy and competition using Keyword Explorer and Open Site Explorer, you are ready to measure your created content using Google Analytics.
Measuring SEO Content using Google Analytics
Here are the steps in measuring SEO content with Google Analytics:
1 – Evaluate conversion actions on site
A website's SEO goals should be tied to a specific business outcome. You should be able to set up specific and measurable business goals, which includes a worksheet that shows monthly performance.
During the launch phase, you should be able to identify the on-site actions that will contribute immensely to the business.  Next, consider how your content can drive a considerable amount of traffic those particular pages. For example, some articles or posts may have call-to-actions (CTAs) that point to a white paper.
These potential conversions should be tied up to the value of a new customer or lead. It is absolutely essential that you define a specific value for each conversion before identifying goals in Google Analytics.
2 – Learn how to operate the Admin panel in Google Analytics
When specific goals have been clearly identified and acceptable values have been assigned for each of those goals, it is time to go to Google Analytics and be familiar with how to navigate the Admin panel.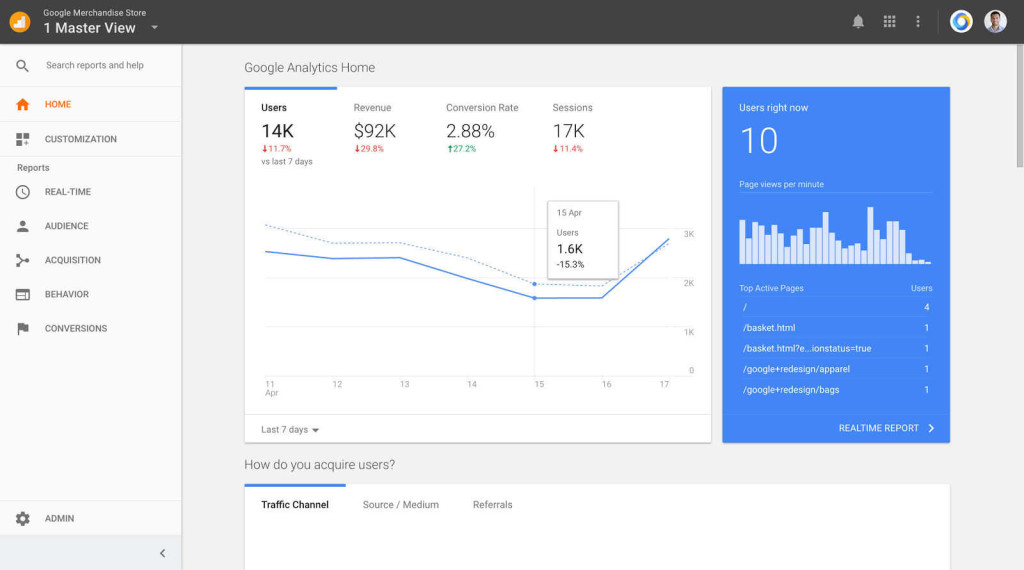 3 – Create goals
Once you click on the Admin panel, you will see three columns: Account, Property, and View. Under "View", you will see a section called "Goals." After clicking on "Goals," select the choice that says "+New Goal." In order for you to be familiar with all the selectors, it is highly recommended that you choose "Custom."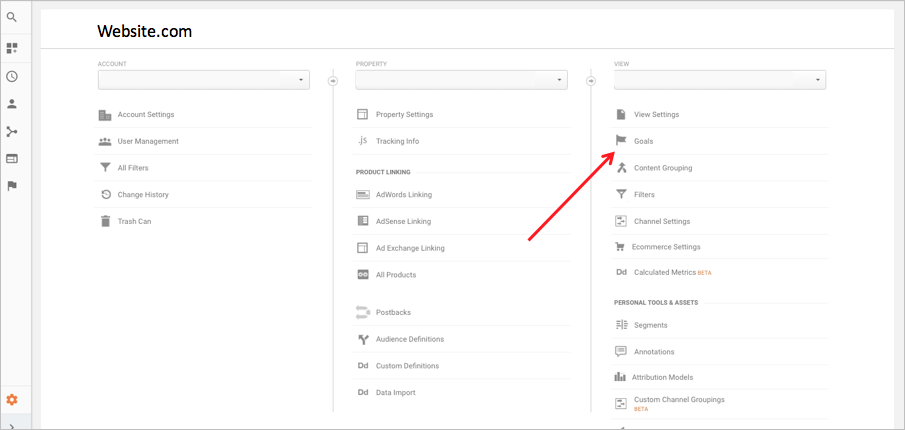 Based on the results of the analysis in Step 1, you should fill in your desired goals. Remember to fill out one goal for each conversion action identified. Do not forget to fill out the value, which is the dollar amount for each goal.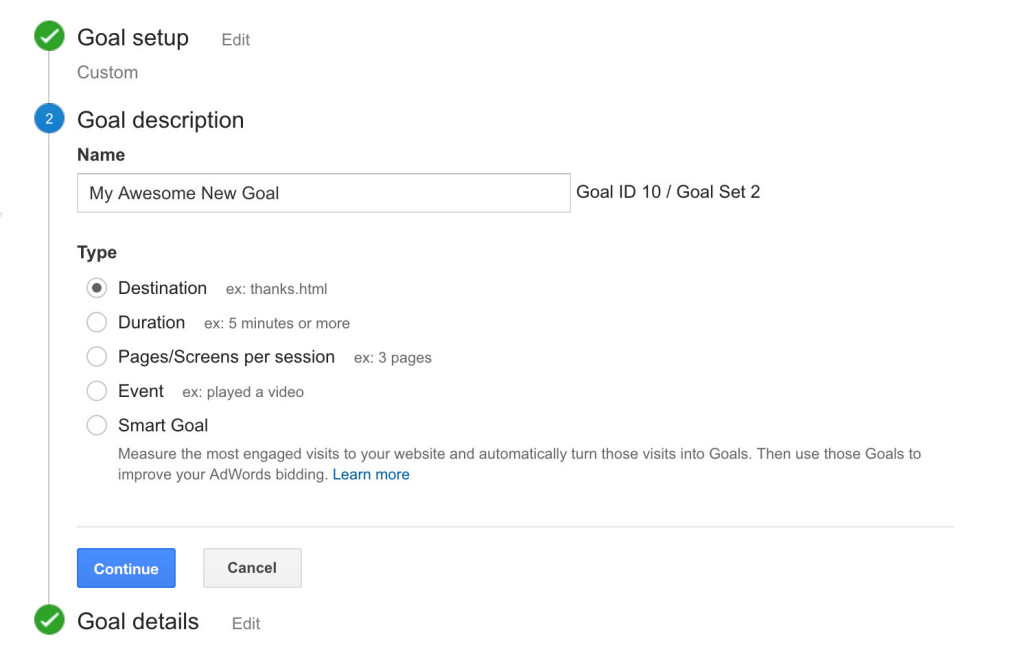 4 – Make and apply a market "segment" for Organic Traffic
When all the goals have been identified and set up, the next thing to do is to set up reporting.  It is also a good idea to automate it. You have to isolate only the traffic that is coming from the Organic Channel. Organic traffic means that these are people who get to your site after clicking on a link that appears on a SERP.
One way of isolating a specific type of traffic from a specific source is to create a segment. Go to any Google Analytics page and go to the reports section. You will see some boxes near the top of the page, with a label that says, "All Users". Once you select this, it will open up a scroll down menu with checkboxes. Scroll down and choose "Organic Traffic". Once you select this, all the reports that you will see in GA will only come from search engines.
5 – View the Landing Pages Report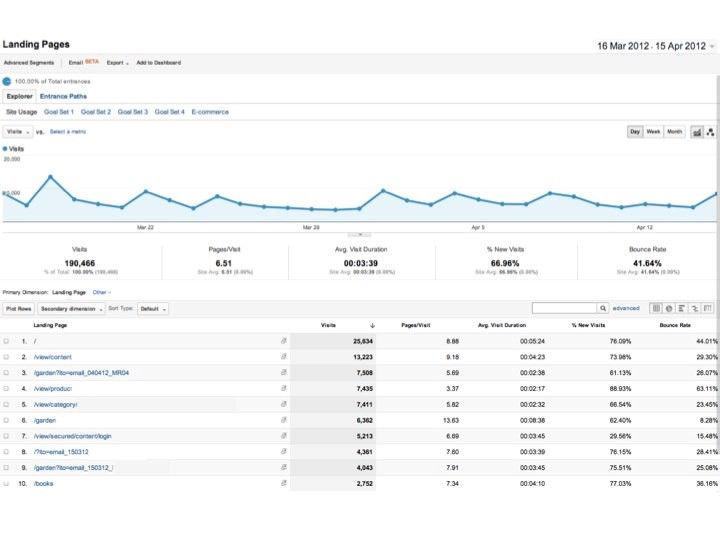 Now that your traffic is isolated from SERPs with the Google Analytics Segment, you can now look at your content performance and be able to assess what delivers the most favourable metrics.  There are several ways to do this, but viewing the Landing Pages report is helpful because it shows you the page where a visitor begins their session. This is a good way to measure blog writers and know which specific writer is generating the most traffic.
The Landing Pages report will identify which pages are delivering the most visits for a certain period of time. You can even go deeper and look at "pages per session" and "session duration." You will be able to know which articles are giving the highest average page depth and the longest average session duration.  Google is able to detect these and know that your website is delivering value to your visitors.  This is good for SEO.
6 – Review writers' conversion value
The far right columns of the Landing Pages report gives information on the value being delivered to each page on your website. This tells you which article topics or which writers are consistently giving the most business value.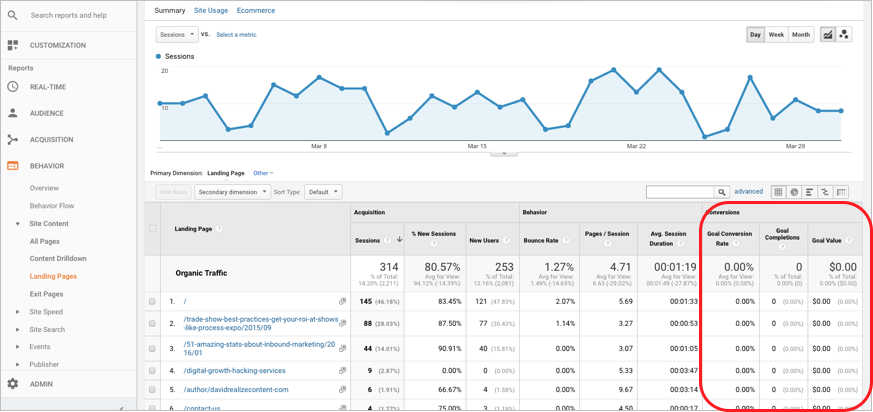 You can also share this particular report with team members. There is an "email" option just below the name of the report. It is also possible to automate the report by having an email delivered monthly.  You will receive a PDF or .csv file.